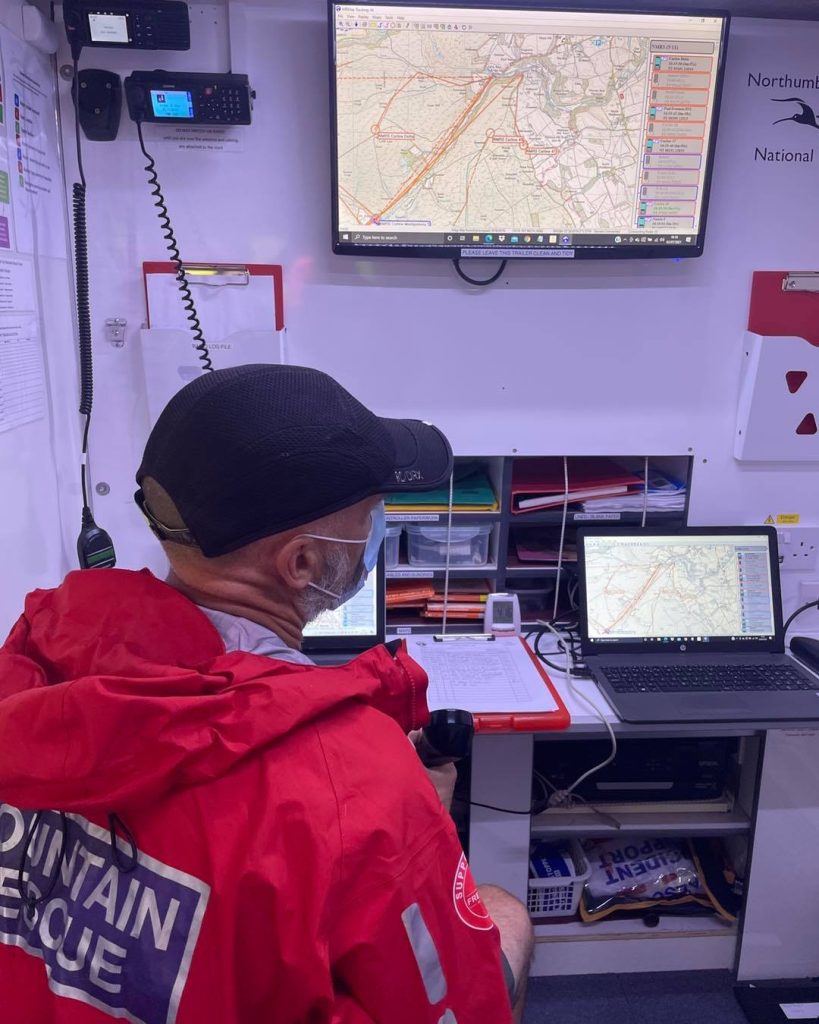 Every incident must be managed and coordinated. A group of members trained to perform the role of tactical and operational commanders and support officers at incidents are the first point of contact for the statutory emergency services – our Calling Authorities.
The Police, Ambulance Service and Fire Service request the assistance of Mountain Rescue through our dedicated SARCALL system, available in their control rooms. Based on the initial information received and an urgency analysis, the most appropriate response to the request is determined.
These members are also trained in search management, including the use of missing person behaviour data, to develop and implement effective search strategies.
Each operational member is highly trained in the skills required to be an effective searcher. This is so much more than simply walking around with your eyes open and is a highly developed and active skill. Pioneering work on search techniques – critical separation, purposeful wandering and so on – has been carried out by members and developed by the Team. These techniques are now in use and are common practice in Mountain and Lowland Rescue in the UK and internationally. 
For more information on this important aspect of our work, see the Centre for Search Research.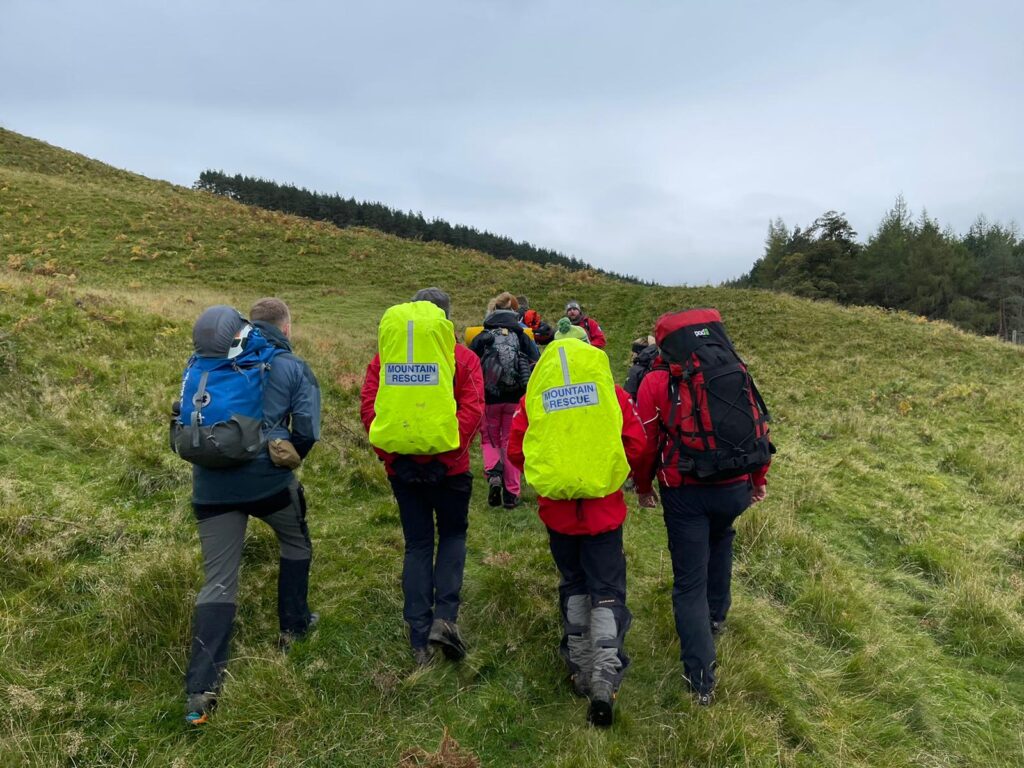 Providing prehospital medical care in a remote environment is a core skill. As a minimum, all operational members train annually in Basic Life Support (BLS), the use of defibrillators (AEDs) and outdoor first aid. 
A significant proportion of our members go on to develop their skills by undertaking the Mountain Rescue England & Wales (MREW) Casualty Care course. This course enables those members to administer controlled drugs for pain relief and give intravenous fluid, amongst other things.
We also have a number of nurses, Paramedics and Doctors on the Team, many of whom have a specialism in prehospital medical care.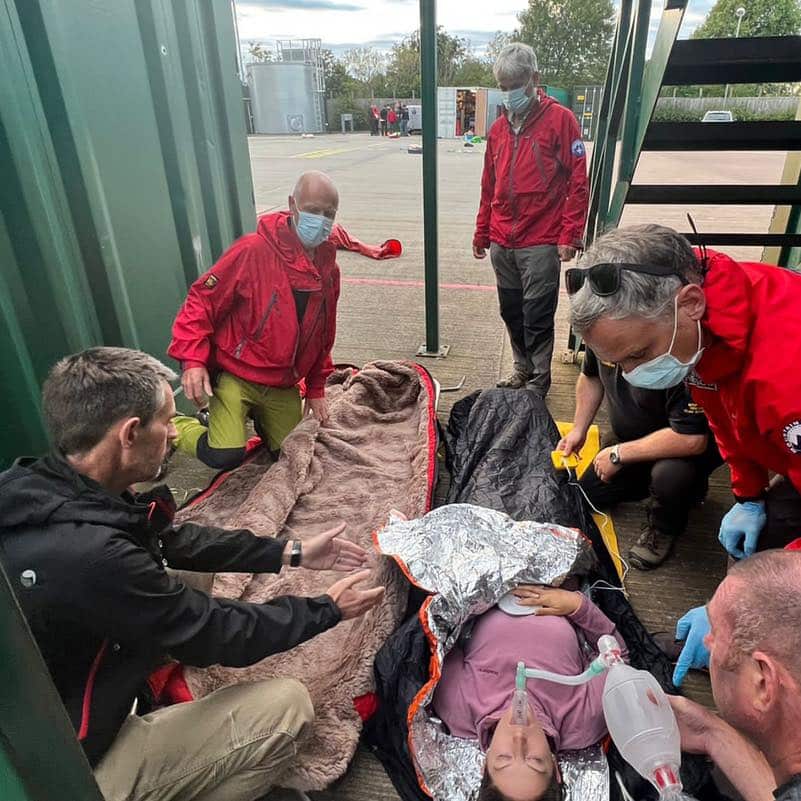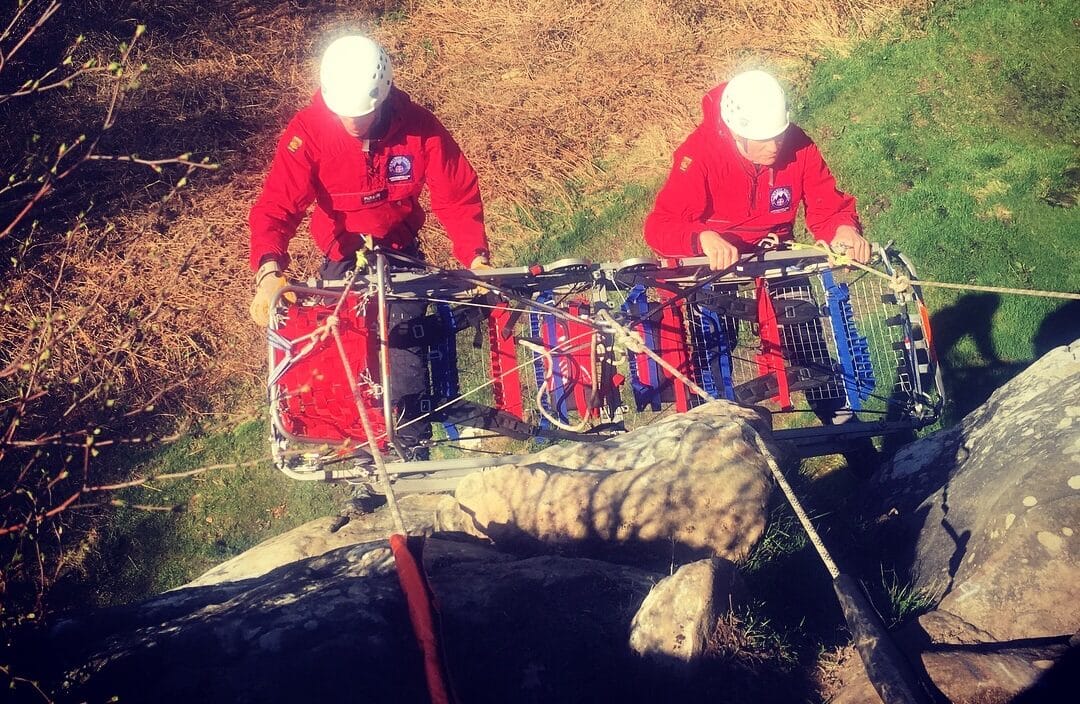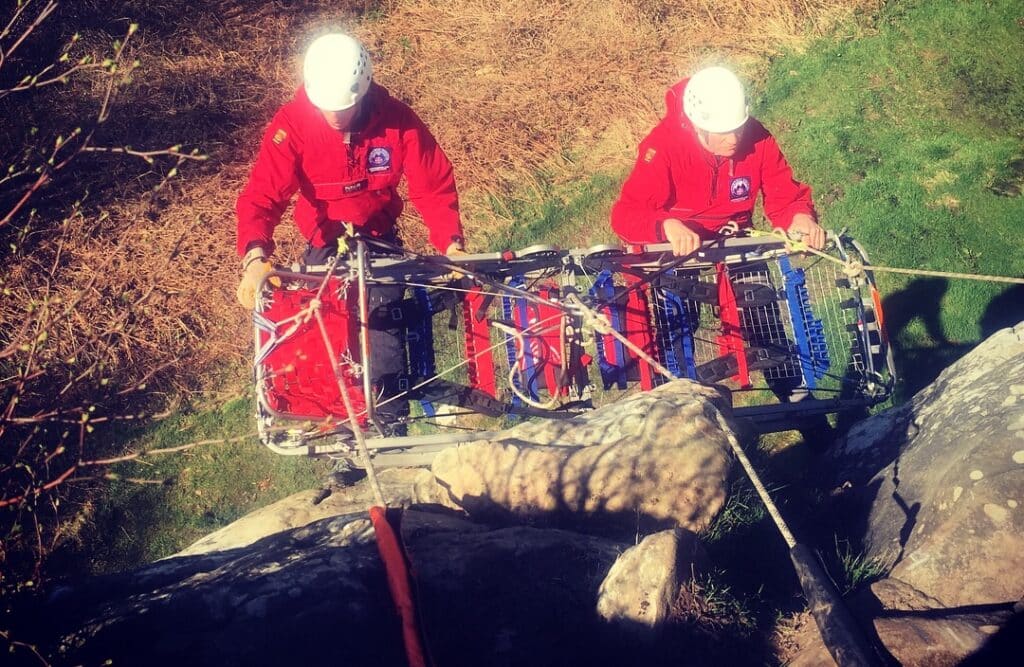 Throughout our operational area, there are a number of climbing crags and waterfalls and gorges, along with steep-sided hills, which demand the use of technical rope rescue techniques to safely extricate an injured person. 
All members are trained in rigging a rope rescue system and in using hardware such as Petzl IDs or CMC Clutches to effect the safe recovery of individuals from difficult terrain ranging from steep and uneven ground to vertical rock faces. A number of operational members are also trained as Rope Rescue Supervisors to oversee the whole process and ensure the safety of everyone involved.
Locating a missing or injured person can be greatly assisted by the use of a drone or UAV. The Team has two drones operated under a Civil Aviation Authority(CAA)  licence and flown by approved pilots.
Training to be a safe and competent drone pilot and securing operational authorisation from the CAA is an intense process, involving both theory and practical assessments. Once authorised to pilot a drone, members have to maintain a minimum number of flying hours each year.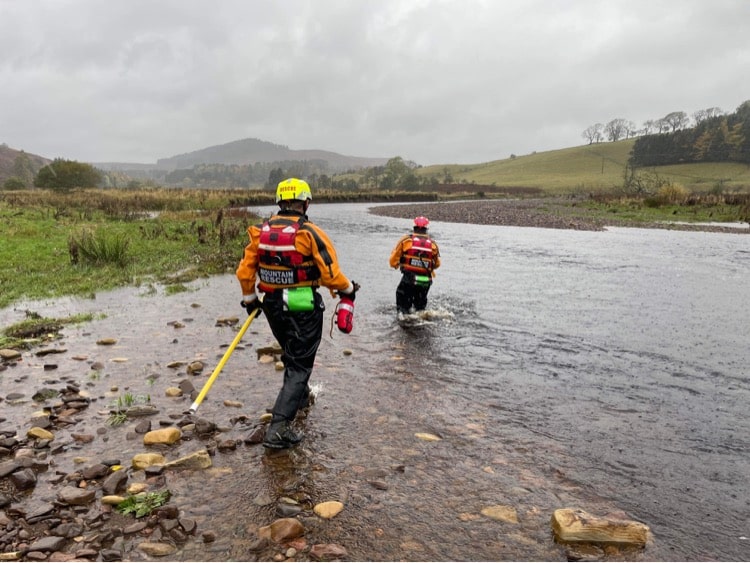 Flood and Swiftwater Rescue
Safeguarding operational members when working near rivers, lakes and reservoirs across our area is critically important. Training is provided to all operational members in general water safety awareness and many then go on to further develop their skills by qualifying as:
Water and Flood First Responder.

Water and Flood Rescue Technician.

Water and Flood Incident Manager.
This training enables members to undertake bankside and in-water searches and rescues and operate alongside other agencies during a flood event. The majority of this training is provided by Northumberland Fire & Rescue Service.
Where large areas of land need to be searched it is a great advantage to have at your disposal the skills of a search and rescue dog and handler. The Team has one qualified air scenting search dog, Tess, and two search dogs in training, Bramble and Merlin. The dogs indicate by barking at their handler when they have made a find. 
Dog and handler teams are trained by Mountain Rescue Search Dogs England (MRSDE).
It takes a minimum of two years to fully train a dog up to full search dog status. Once fully trained the dog and handler are regularly assessed to ensure that they maintain the very high standards expected.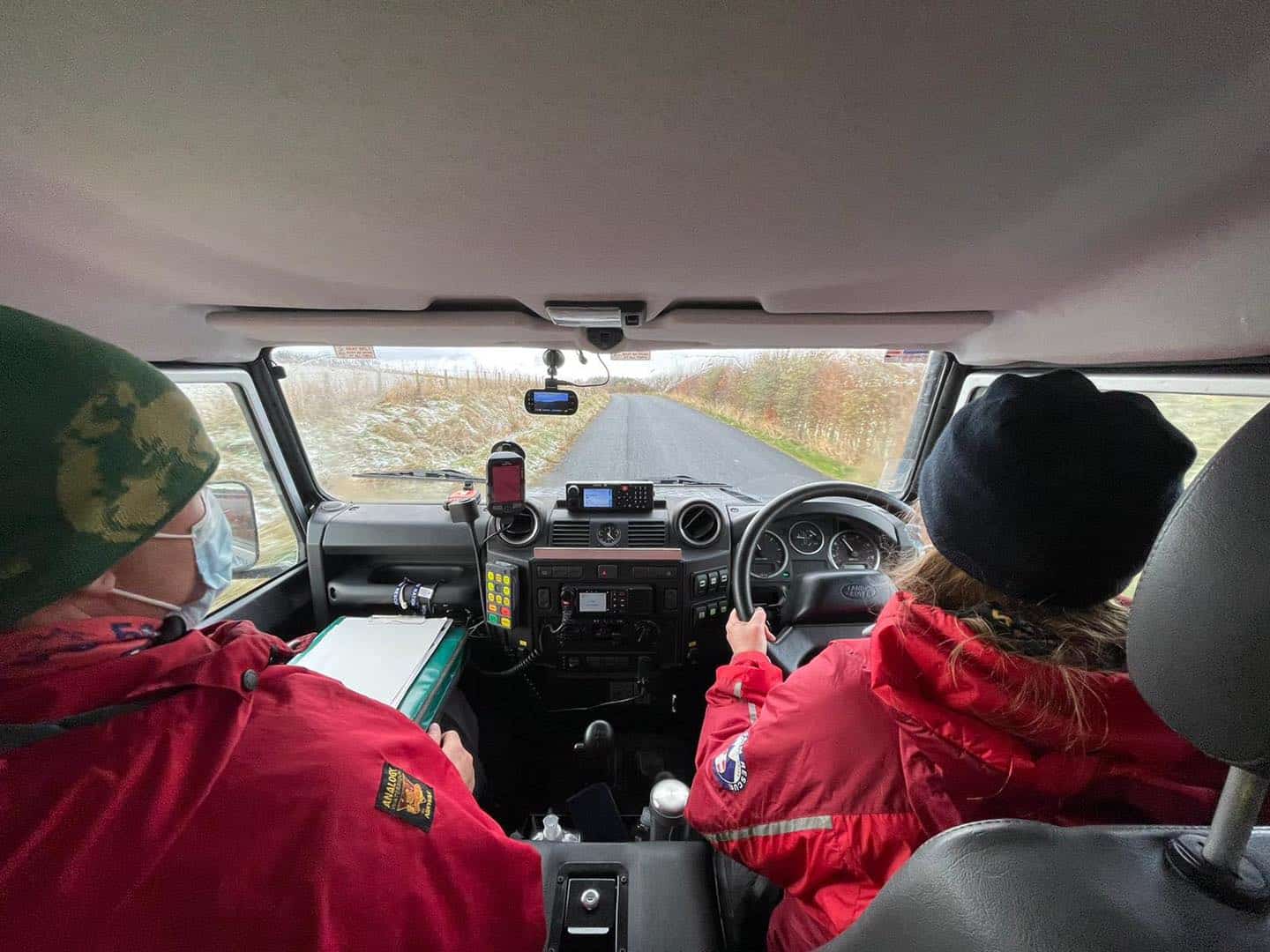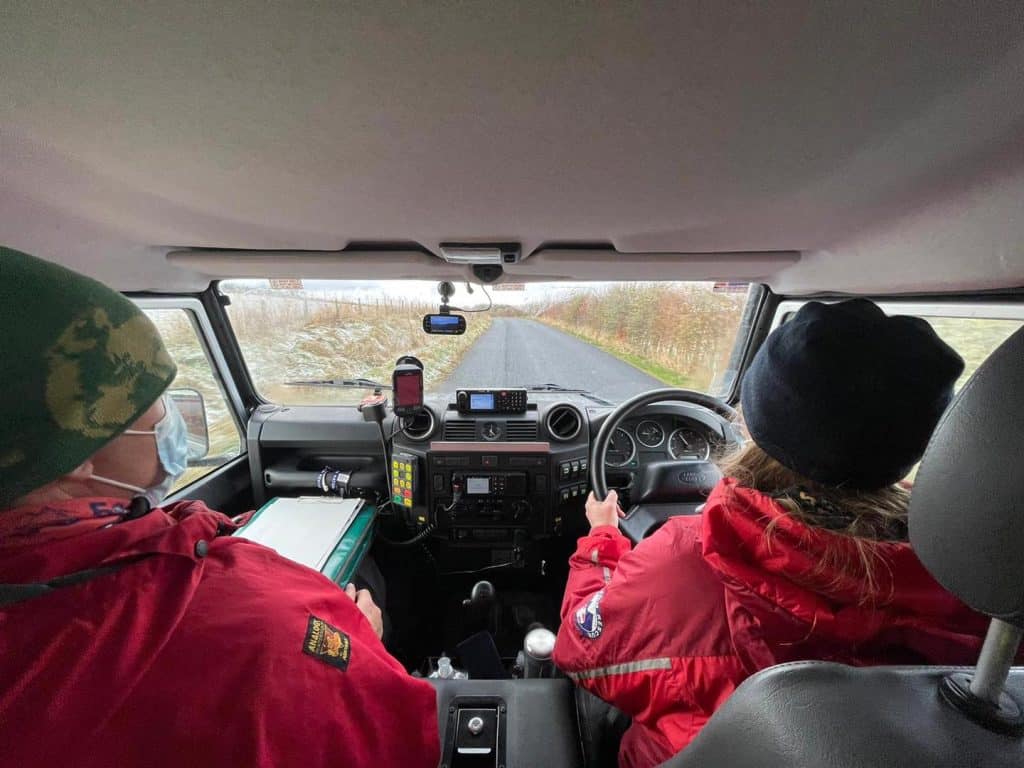 Evacuating an injured person from the hills, moors, crags or forests of our operational area requires specialist medical and rescue kit to arrive on scene in a timely manner. 
Whilst most members travel direct to the designated RVP in their own vehicle, other members are tasked to drive one of the Team's 4×4 response vehicles.
These members are trained in general roadcraft to ensure they 'drive to arrive' and the use of blue lights and sirens to make safe progress. Our blue light driver training is currently delivered by Northumbria Police.
The Team can call upon the assistance of several different helicopter assets including the HM Coastguard S-92s and AW-189s based at Prestwick and Humberside, the Great North Air Ambulance Service operating from Langwathby in Cumbria, and Eaglescliffe in Teesside, and the National Police Air Service (NPAS).  
Operational members are fully trained in operating in and around a helicopter including identifying an appropriate landing zone, safe access and egress, and emergency procedures.